The Original Dirty Harry® Trademark is the exclusive property of the Original and Current Trademark Owner, Jerome Mark Ardolino. The Original Dirty Harry® design is also TM and Copyright 1975-2017, Jerome Mark Ardolino/a.k.a. Jerry Ardolino of Texas. All other designs & trademarks herein; Copyright 2007-2017 Jerry Ardolino of Texas.



TO ORDER CALL
(361) 389-4566
TM
The authentic 12-degree muzzle-forward cant offers the optimum in a smooth, fast draw.
36 Cartridge Loops! Gunbelt is Heavy, American Saddle Leather, Hand-Dyed in the Old-World Method and Stitched to Perfection. NOBODY offers Cartridge Loops as Precise, Straight and with that Perfect just-snug-enough Fit. Made for ANY Handgun Caliber!
The WILD GUNS Bossman and Real Gunhand, JERRY ARDOLINO, Wearing his personal Original SHERIFF SETH BULLOCK (TM) Gunbelt Rig--Made for Real Hard Western Shooting!
WILD GUNS' Original SHERIFF SETH BULLOCK Gunbelt Rig is the type of Authentic Black & Tan Rig BULLOCK and Other Lawmen of the 1870's Period would buy in New York on Trips or Mail Order to Sears Roebuck or Montgomery Ward's in Chicago. In those days, matched sets weren't the usual. Our ORIGINAL SETH BULLOCK (TM) Gunbelt Rig comes with 36 Bullet Loops. Yes, we know they're correctly called "Cartridge Loops" but, we just like the sound of Bullets! On most sizes of the Gunbelt, we designed the Loops to pass through the fold between the Holster and the Wide, Period Holster Skirt. This Gives the Holster a Slight Outward Tilt that Allows for More Room for Your Hand; a Firmer Grip & Faster Draw.
The Original SHERIFF SETH BULLOCK (TM) Gunbelt Rig is the First in a series from Our DEADWOOD JUSTICE (TM) collection. It is Expertly Made to the EXACT Gun it is Ordered for; Deep Edge-Creasing with 3 Period-Style Flowers stamped in. Made of Premium Grade, 8 oz. Top-Grain, mellow, Deep Tan Cowhide, that is Hand-Rubbed with Natural Oils. It will Darken Slightly with Age and Use. It will be a Western Heirloom for You and Yours.
Every one of Our Original SHERIFF SETH BULLOCK (TM) Gunbelt Rigs is BENCHMADE and DELIVERY is Only 7 Weeks! These Rigs are Made at one of our New, Auxiliary, Western Production Facilities.
The initials "S. B." are Expertly stamped into the Period, Riveted Holster Loop. BULLOCK was Tough, but was also known to be a Gent who liked fine things--notice BULLOCK's heavy-chained pocket watch at left--and had initials or his name on some personal items.

The Gold Nuggets in the Image are Real and some are available for sale with a Presentation Set consisting of a Genuine BLACK Ore Veined with 24Kt GOLD along with a Beautiful Copy of a Mining Company Stock Certificate from Seth Bullock's "RUBY BELL GOLD AND SILVER Mining Company in The Black Hills with Seth Bullock's Signature on it!
Call for Pricing and Types of Black Gold Ore Dust or 24Kt-Veined Nuggets available.

SETH BULLOCK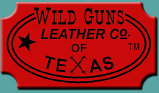 "Real Holsters From A Real Gunhand and an Old-Line Maker. WILDGUNS Offers Old -World Quality & Friendly Old-World Service. We Know Guns Better Than Anybody. Don't Ever Bet Against Us!" (TM)
All material,images & designs herein, including but not limited to: "DEADWOOD JUSTICE" is TM & Copyright 2016 By Jerry Ardolino of Texas All Rights Reserved.