The Original Dirty Harry® Trademark is the exclusive property of the Original and Current Trademark Owner, Jerome Mark Ardolino. The Original Dirty Harry® design is also TM and Copyright 1975-2017, Jerome Mark Ardolino/a.k.a. Jerry Ardolino of Texas. All other designs & trademarks herein; Copyright 2007-2017 Jerry Ardolino of Texas.
KING OF MAGNUM SHOULDER HOLSTERS!
...Worn by Shooters & Elite Military in 23 Nations
for OVER 35 years... THE LEGEND:
Hundreds of Thousands
SOLD & DELIVERED!
NOW MADE For ALL HANDGUNS - any Make,
Caliber or Barrel Length; TO THE EXACT GUN
Brand*
Made from Premium Grade,
Hand-Selected,HEAVY
BRIDLE LEATHER--"Original
Rich-Russet" color as seen
in The Films or MarauderTM
Black! Original All Top-Grain,
Leather Harness. Holster is
Fully-Lined with Butter-Soft,
Genuine Suede.The
ORIGINAL DIRTY HARRY®
has been written about
extremely favorably and
used hard for decades by
the majority of the most
famous Gun-Writers in the
History of The Firearms Industry!
In fact, there have been more Major Gun Magazine articles on JERRY ARDOLINO'S "Original Dirty Harry®" Shoulder Holster thanany other Big-Bore holster--or ANY holster-- in the Firearm's Industry; written by the following Gun-Writers: Elmer Keith, Skeeter Skelton, Jerry Ahern, Phil Spangenberger, Major George C. Nonte, Bob Zwirz, Col. Jim Crossman, Leroy Thompson, J.D. Jones, Hal Swigget, Dean Grenell, Jack Lewis, Jan Libourel, Sammy Reese, Payton Miller, Bob Arganbright, Flint Hansen, Bob Boyd, Rick Hacker of AMERICAN RIFLEMAN and, the Firearms Industry's Foremost Military Weapons Writer & Expert: Peter G. Kokalis as well as many more famous individuals including Knifemaker Bob Loveless, late State Comptroller of Texas, Bob Bullock and in addition to "Dirty Harry"; many Hollywood celebrities such as Judge Joe Brown! The Original Dirty Harry ® Shoulder Holster was the favorite shoulder holster of Elmer Keith, The Greatest Handgunner of all Time. Mr. Keith wrote: "...for carrying heavy sixguns like our .44 Magnums or Auto-Mag...it is real fine quality costruction and offers the most comfortable shoulder holster I have ever tried for heavy guns." --Elmer Keith, October, 1978 GUNS & AMMO. The Original Dirty Harry® Truly is a Legend and:"LEGENDS ARE FOREVER"TM
The Original Dirty Harry® shown with JERRY ARDOLINO'S personal, 1970's S&W Model 29, 6 1/2". 44 Magnum, w/Special Factory-Order Nickel Finish in Original configuration w/ external firing pin and Goncalo Alves Grips]. Shown in Original Rich Russet TM--also available in MarauderTM BLACK
"...Lawman Leather Goods... it is real fine quality construction and offers the most comfortable shoulder holster I have \ ever tried for heavy guns."--Elmer Keith, October, 1978 GUNS & AMMO MAGAZINE
NOW MADE EXCLUSIVELY BY
Owned by JERRY ARDOLINO { Ex-Lawman/Real Gunhand};The Original Maker & Original Dirty Harry Trademark Owner; Originator of The LAWMAN LEATHER GOODS BRAND
"The Dirty Harry is meticulously assembled from the
finest cowhide"-- Jerry Ahern,GUN WORLD Feb.2012

Get The Original Dirty Harry ® Shoulder Holster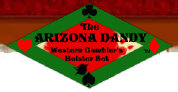 TM
TO ORDER CALL
(361) 389-4566
A Message from the
Owner & Originator
from

Design Studio